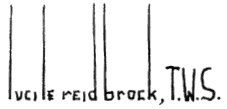 Lucile Lattanner Reid Brock
June 6, 1918 - November 20, 2008
Updated November 12, 2018, ten years after her death. Emails are actively monitored as of 2020!
Click Here to ask questions or tell us what you like about Lucile & this site.
Support-a Soldier. Direct support for active duty military and their families. Click to learn more.
Lucile Reid Brock Estate
c/o Dr. William H. Reid
P.O. Box 4015
Horseshoe Bay, TX 78657
For more information, purchases, information about your LRB painting,
donations to the UNM Lucile Brock Scholarship Fund, or just to say hello,
E-mail the Lucile Reid Brock estate
All works on this website are Copyright © 1997-2004, estate of Lucile Reid Brock, T.W.S.,
administered by William H. Reid and Daniel J. Reid, all rights reserved.
We still think of you, Mom.